(FN)An airline worker stole an in any other case unoccupied passenger aircraft Friday from the Seattle-Tacoma International Airport and flew it for an hour with army jets chasing him earlier than crashing in a wooded space 40 miles away.
The 29-year-old floor service agent died, the Pierce County Sheriff's Department stated, with out additional figuring out him.
The 76-seat Horizon Air turboprop aircraft took off with out authorization round eight p.m. native time, with an unauthorized Horizon Air worker on the controls, airport officers tweeted.
After "doing stunts in (the) air" — or being circulate with out correct expertise — for about an hour, the aircraft crashed at Ketron Island, the sheriff's division stated. The man was a floor service agent, a job that features directing plane for takeoff and gate method, and de-icing planes, authorities stated.
');$vidEndSlate.removeClass('video__end-slate–inactive').addClass('video__end-slate–active');}};FN.autoPlayVideoExist = (FN.autoPlayVideoExist === true) ? true : false;var configObj = {thumb: 'none',video: 'us/2018/08/11/seattle-plane-crash-air-traffic-control-audio-sot-vpx.cnn',width: '100%',top: '100%',part: 'home',profile: 'growth',community: 'cnn',markupId: 'body-text_6',theoplayer: {allowNativeFullscreen: true},adsection: 'const-article-inpage',frameWidth: '100%',frameHeight: '100%',posterImageOverride: {"mini":{"width":220,"type":"jpg","uri":"//cdn.cnn.com/cnnnext/dam/assets/180811020224-seattle-stolen-plane-small-169.jpg","height":124},"xsmall":{"width":307,"type":"jpg","uri":"//cdn.cnn.com/cnnnext/dam/assets/180811020224-seattle-stolen-plane-medium-plus-169.jpg","height":173},"small":{"width":460,"type":"jpg","uri":"http://cdn.cnn.com/cnnnext/dam/assets/180811020224-seattle-stolen-plane-large-169.jpg","height":259},"medium":{"width":780,"type":"jpg","uri":"//cdn.cnn.com/cnnnext/dam/assets/180811020224-seattle-stolen-plane-exlarge-169.jpg","height":438},"large":{"width":1100,"type":"jpg","uri":"//cdn.cnn.com/cnnnext/dam/assets/180811020224-seattle-stolen-plane-super-169.jpg","height":619},"full16x9″:{"width":1600,"type":"jpg","uri":"//cdn.cnn.com/cnnnext/dam/assets/180811020224-seattle-stolen-plane-full-169.jpg","height":900},"mini1x1″:{"width":120,"type":"jpg","uri":"//cdn.cnn.com/cnnnext/dam/assets/180811020224-seattle-stolen-plane-small-11.jpg","height":120}}},autoStartVideo = false,isVideoReplayClicked = false,callbackObj,containerEl,currentVideoCollection = [],currentVideoCollectionId = ",isLivePlayer = false,mediaMetadataCallbacks,moveToNextTimeout,mutePlayerEnabled = false,nextVideoId = ",nextVideoUrl = ",turnOnFlashMessaging = false,videoPinner,videoEndSlateImpl;if (FN.autoPlayVideoExist === false) {autoStartVideo = false;if (autoStartVideo === true) {if (turnOnFlashMessaging === true) {autoStartVideo = false;containerEl = jQuery(doc.getElementById(configObj.markupId));FN.VideoPlayer.showFlashSlate(containerEl);} else {FN.autoPlayVideoExist = true;}}}configObj.autostart = autoStartVideo;FN.VideoPlayer.setPlayerProperties(configObj.markupId, autoStartVideo, isLivePlayer, isVideoReplayClicked, mutePlayerEnabled);FN.VideoPlayer.setFirstVideoInCollection(currentVideoCollection, configObj.markupId);videoEndSlateImpl = new FN.VideoEndSlate('body-text_6');perform findNextVideo(currentVideoId) {var i,vidObj;if (currentVideoId && jQuery.isArray(currentVideoCollection) && currentVideoCollection.size > 0) {for (i = 0; i 0) {videoEndSlateImpl.showEndSlateForContainer();}}}callbackObj = {onPlayerReady: perform (containerId) {FN.VideoPlayer.handleInitialExpandableVideoState(containerId);FN.VideoPlayer.handleAdOnCVPVisibilityChange(containerId, FN.pageVis.isDocumentVisible());if (Modernizr && !Modernizr.cellphone && !Modernizr.cellular && !Modernizr.pill) {var containerClassId = '#' + containerId;if (jQuery(containerClassId).mother and father('.js-pg-rail-tall__head').size) {videoPinner = new FN.VideoPinner(containerClassId);videoPinner.init();} else {FN.VideoPlayer.hideThumbnail(containerId);}}},onContentEntryLoad: perform(containerId, playerId, contentid, isQueue) {FN.VideoPlayer.showSpinner(containerId);},onContentMetadata: perform (containerId, playerId, metadata, contentId, period, width, top) {var endSlateLen = jQuery(doc.getElementById(containerId)).mother or father().discover('.js-video__end-slate').eq(0).size;FN.VideoSourceUtils.updateSource(containerId, metadata);if (endSlateLen > 0) {videoEndSlateImpl.fetchAndShowRecommendedVideos(metadata);}},onAdPlay: perform (containerId, cvpId, token, mode, id, period, blockId, adType) {clearTimeout(moveToNextTimeout);FN.VideoPlayer.hideSpinner(containerId);if (Modernizr && !Modernizr.cellphone && !Modernizr.cellular && !Modernizr.pill) {if (typeof videoPinner !== 'undefined' && videoPinner !== null) {videoPinner.setIsPlaying(true);videoPinner.animateDown();}}},onTrackingFullscreen: perform (containerId, PlayerId, dataObj) {FN.VideoPlayer.handleFullscreenChange(containerId, dataObj);},onContentPlay: perform (containerId, cvpId, occasion) {var playerInstance,prevVideoId;if (FN.companion && typeof FN.companion.updateCompanionLayout === 'perform') {FN.companion.updateCompanionLayout('restoreEpicAds');}clearTimeout(moveToNextTimeout);FN.VideoPlayer.hideSpinner(containerId);if (Modernizr && !Modernizr.cellphone && !Modernizr.cellular && !Modernizr.pill) {if (typeof videoPinner !== 'undefined' && videoPinner !== null) {videoPinner.setIsPlaying(true);videoPinner.animateDown();}}},onContentReplayRequest: perform (containerId, cvpId, contentId) {if (Modernizr && !Modernizr.cellphone && !Modernizr.cellular && !Modernizr.pill) {if (typeof videoPinner !== 'undefined' && videoPinner !== null) {videoPinner.setIsPlaying(true);var $endSlate = jQuery(doc.getElementById(containerId)).mother or father().discover('.js-video__end-slate').eq(0);if ($endSlate.size > 0) {$endSlate.removeClass('video__end-slate–active').addClass('video__end-slate–inactive');}}}},onContentBegin: perform (containerId, cvpId, contentId) {FN.VideoPlayer.mutePlayer(containerId);if (FN.companion && typeof FN.companion.updateCompanionLayout === 'perform') {FN.companion.updateCompanionLayout('removeEpicAds');}FN.VideoPlayer.hideSpinner(containerId);clearTimeout(moveToNextTimeout);FN.VideoSourceUtils.clearSource(containerId);jQuery(doc).triggerVideoContentStarted();},onContentComplete: perform (containerId, cvpId, contentId) {if (FN.companion && typeof FN.companion.updateCompanionLayout === 'perform') {FN.companion.updateCompanionLayout('restoreFreewheel');}navigateToNextVideo(contentId, containerId);},onContentEnd: perform (containerId, cvpId, contentId) {if (Modernizr && !Modernizr.cellphone && !Modernizr.cellular && !Modernizr.pill) {if (typeof videoPinner !== 'undefined' && videoPinner !== null) {videoPinner.setIsPlaying(false);}}},onCVPVisibilityChange: perform (containerId, cvpId, seen) {FN.VideoPlayer.handleAdOnCVPVisibilityChange(containerId, seen);}};if (typeof configObj.context !== 'string' || configObj.context.size 0) {configObj.adsection = window.ssid;}FN.autoPlayVideoExist = (FN.autoPlayVideoExist === true) ? true : false;FN.VideoPlayer.getLibrary(configObj, callbackObj, isLivePlayer);});FN.INJECTOR.scriptComplete('videodemanddust');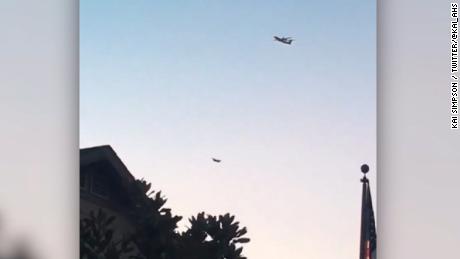 JUST WATCHED

Hear audio from earlier than aircraft crashed
MUST WATCH